Ex-homeless man Lee Thomas sets up graphic design firm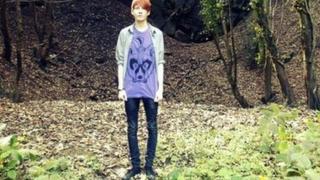 A 21-year-old man who was homeless until recently has set up a business selling a line of clothes featuring his designs.
Lee Thomas, from Swansea, found himself without a roof over his head at 18, and later drifted in and out of hostels.
But he says he never lost sight of a dream he had since his early teens to develop a talent as an artist.
He was encouraged by a UK government scheme to become a freelance illustrator and is now working towards getting a degree in illustration.
His company's services include designing album covers, tattoos and fashion items.
He has also diversified and set up his own website selling clothing carrying his work.
"They won't be to everyone's taste, but they're certainly original, and with the market research skills I've learnt, I think I can be confident that there's people out there who want to buy stuff like this," he said.
"If Lewis Carroll drank a bit more absinthe, then designed clothes, it's a bit like that.
Failed relationship
"I'm optimistic about things now, for the first time in a long time. I'm out of the rut of needing a job to sort my life out and needing to sort my life out to get a job."
Following a stint living on the streets after a failed relationship, Mr Thomas was referred to the New Enterprise Allowance scheme - run by A4enterprise in Wales - which aims to help unemployed people who want to start their own business.
In return, recipients must give up all their other allowances, including access to housing benefit and council tax relief.
With more than half of new businesses failing inside 18 months, joining the scheme is by no means a straightforward decision.
Leap of faith
Mr Thomas was given help to create a business plan and trained in market research and book-keeping, before opening his business in September.
"Word is now spreading about my business and as well as taking on several new projects, I have also started working towards getting a degree in illustration which will strengthen my CV and credibility," he said.
"It was a huge leap of faith for me, I lost my JSA (Jobseeker's Allowance), and housing benefit while I transferred to self-employed status, and for a while it was very scary.
"But now I've got a website and a business plan and customers actually coming to me, I'm so glad I didn't take the safe option."