Mullany honeymoon murders: Sentencing delayed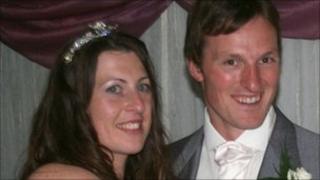 A court hearing to sentence the killers of newlyweds shot on the last night of their honeymoon on Antigua has been adjourned until next week.
Ben and Catherine Mullany, both 31 and from Pontardawe, Swansea Valley, were shot in the head on 27 July, 2008.
Kaniel Martin and Avie Howell were convicted in July.
The case on Friday heard from the Caribbean island's Director of Public Prosecutions (DPP) about whether the death penalty should be considered.
DPP Anthony Armstrong said it must apply in the most exceptional circumstances, in the worst of the worst cases.
The death sentence has not been carried out on the island since the 1990s.
The Mullanys were shot in their resort cottage on Antigua two weeks after they married.
An inquest, held in Swansea in November, heard that neighbouring holiday-makers at the Cocos Hotel heard screams and gunfire early in the morning.
The hearing was told that three spent cartridges were found on the floor of their chalet and there was damage to the bathroom door where it had been kicked in.
Catherine Mullany, a doctor working towards becoming a GP, died at the scene.
Her husband Ben, a student physiotherapist and former soldier and police officer, died a week later after he was flown back to Swansea.
Shopkeeper
They were buried in the grounds at St John Evangelist Church, Cilybebyll, near Pontardawe - the church where they married two weeks earlier.
Their murderers also shot and killed local shopkeeper Woneta Anderson in similar circumstances.
At the end of their trial in July, prosecutors said they would "reserve judgment" on whether they would seek the death penalty.
Howell was too young at the time of the crime to face the death penalty.
Friday's hearing also received psychiatric reports which were originally due to be put before Judge Richard Floyd last month.
But proceedings were adjourned at the last minute when Martin's barrister, Marcus Foster, suddenly fell ill.
However, the court heard that Martin and Howell's defence teams contested elements of the evaluation and want to put forward their mitigation next week.
Judge Floyd said he needed to "consider matters fully" and hinted that the case may not be concluded before the end of 2011.
In September, proceedings were adjourned after a "communication breakdown" over pre-sentencing reports.
The case is now listed at Antigua's High Court for December 8, where Martin and Howell's barristers are expected to offer mitigation.