Rangers keep company with seal pup stranded at Llanelli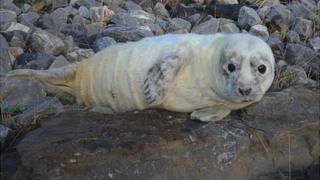 Rangers at Llanelli's Millennium Coastal Park kept a stranded seal pup company for 12 hours before it was able to swim away.
The mammal was caught out by the tide and found itself stuck on rocks near the town's beach on Thursday morning.
Park ranger Simeon Jones said dog walkers had to be kept at bay.
A common sight on the Carmarthenshire, Gower and Pembrokeshire coast, Mr Jones said it was still rare to see a seal so close to Llanelli.
"He seemed quite content relaxing on the rocks, stretching, yawning and dozing, which is natural behaviour for seals," he said.
"When the tide came back the seal pup took off so he was clearly hungry."