Himalayan balsam fight in Pembrokeshire Coast National Park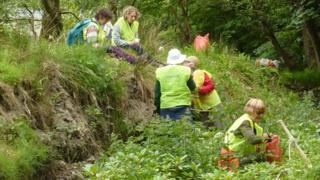 Dozens of volunteers have been tackling an alien plant invading parts of the Pembrokeshire Coast National Park.
People of all ages have been giving up their time to fight the spread of Himalayan balsam.
It wipes out native species by depriving them of food and light and this in turn affects other wildlife.
Volunteers spent over 1,700 hours clearing 18 acres of north Pembrokeshire last year with the fight set to resume in April.
'Military precision'
The project was started by Cymdeithas Llandudoch - the St Dogmaels Community Association.
Organiser Gill Wislocka said they had been helped by a variety of people including walkers, scouts and holidaymakers.
During 2011 they organised 31 working parties to remove the plant from land around Cippyn Stream near Poppit Sands.
Ms Wislocka said it was carried out with military precision - starting at the top of the stream where the Himalayan balsam had first taken hold.
They cleared the bank, footpaths, gardens, a caravan park and marshland as they followed it down stream towards the sea.
Abseilers helped to access hard to reach areas and volunteers made platforms out of horse mats for more secure footing in marshland.
They also had help from park authority and county council staff.
"Basically it overshadows and out competes every other plant for light, for food and for water," said Ms Wislocka.
"Areas that used to have lots of native species end up having a mono culture of Himalayan balsam.
"We started at the top and worked down."
Uniting community
She said as well wiping out other plants it also affected birds and insects by reducing their natural habitat.
Although the flowering plant can grow up to 10ft (3m) tall it has shallow roots which means it easy to pull out of the ground.
But the reason it spreads so aggressively is the number of seeds each one produces.
"By the end of the year we were seeing the return of all sorts of plants," said Ms Wislocka.
"One garden that was over run by Himalayan balsam is now full of foxgloves."
Ms Wislocka said their work would resume in April, keeping the area already cleared free from the plant as well as tackling another at Cemaes Head.
The plant first came to the UK in the 1800s.
Ms Wislocka said: "Now it's a national problem. I think probably most rivers in Wales are affected."
She said the project had helped bring the community together with many of those taking part making new friends.
The volunteers have abeen recognised by both the Pembrokeshire Coast National Park Authority and Keep Wales Tidy with awards.
Park authority chairman Tony Brinsden said: "This group thoroughly deserved the award, having put in an incredible 1,700 hours of work towards eradicating this non-native species over nine months, often in difficult conditions."