Pembrokeshire Coast National Park marks 60 years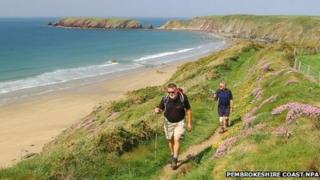 Pembrokeshire Coast National Park is kicking off a year of celebrations to mark its 60th anniversary.
Granted national park status on 29 February 1952, it supports thousands of tourism jobs and contributes millions each year to the county's economy.
The park authority, which manages everything from planning to wildlife, is planning a series of events.
It said it would also continue to meet the challenges of being "many things to many people".
In 2010 the park was hailed the second best coastal destination in the world by National Geographic Traveller magazine.
According to recent figures, 14,250 staff are directly involved in tourism in Pembrokeshire and a further 2,100 people indirectly.
Many visitors are drawn by the 186-mile long (299km) coastal path that winds its way along rugged cliffs and 13 Blue Flag beaches.
The park authority's tourism director James Parkin said: "It's hard to overstate the value of the path to Pembrokeshire.
"For people living here it offers the chance to escape from the day-to-day stress of life and take in some of the most spectacular coastal scenery in Britain.
"The path is also vital for tourism, contributing over £14m for the county's economy each year."
The park also covers the small islands off Pembrokeshire, including the Skomer Island nature reserve, as well as historical monuments such as Carew Castle and Castell Henllys Iron Age fort.
Projects are ongoing to place overhead cables and phone lines underground in a number of locations.
The area is also benefiting from a £1.9m Welsh government scheme to promote sustainable development.
Recently it has been a popular location for films, with scenes from Harry Potter and the Deathly Hallows, and Russell Crowe's Robin Hood being shot on the coast.
Liz Williams, project executive for the trade organisation Pembrokeshire Tourism, said: "Over the last 60 years it has been a massive influence on drawing visitors to the county from all walks of life and all ages.
Protect the landscape
"It works continually to enhance the beauty of the area."
The park authority has responsibility for planning within its boundaries, balancing the interests of local residents and developers with the need to protect the landscape.
Chairman Tony Brinsden said: "We are a small public authority with a wide-ranging remit and we are challenged to be many things to many people.
"As we celebrate our 60th anniversary this year, we will continue to meet these challenges - by conserving the park's outstanding features and ensuring that the special qualities which we all value about it can be enjoyed by everyone, now and in the future."
Among events to be held to mark the anniversary are a charity concert in Pembroke Dock on 20 March.
The performance, which is already sold out, features Pembroke and District Male Voice Choir, which also celebrates its 60th birthday this year, along with the Band of the Welsh Guards.