Angelika Dries-Jenkins murder case: DNA link to accused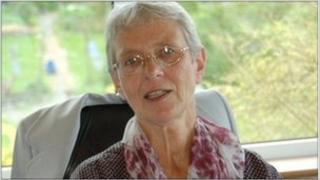 Blood found at a Pembrokeshire woman's home partially matched the DNA profile of the man accused of her murder, Swansea Crown Court has heard.
John William Mason, 55, is accused of beating to death Angelika Dries-Jenkins, 66, at Narberth last year.
The prosecution claims the possibility of partial DNA matches from blood and fibres found by the inquiry coming from other people were one in a billion.
Mr Mason denies murder and the case continues.
The court has previously been told that Ms Dries-Jenkins was savagely beaten to death with a blunt instrument by Mr Mason because he needed the money to pay for his wedding.
He is said to have withdrawn £1,000 from her bank accounts, having stolen her handbag and her Skoda Fabia car, leaving her dead or dying.
On Tuesday, forensic scientist Martin Whittaker gave in detail the results of DNA testing at Ms Dries-Jenkins' house, her car and on a jumper which the prosecution says Mr Mason discarded in a bin in Haverfordwest.
Mr Whittaker said he found limited DNA profiles on a number of objects in the house but in Ms Dries-Jenkins' car he found a full profile which matched the defendant on the car keys.
He said he also found a DNA profile of Mr Mason on the neck of the jumper found in a bin, along with blood from Ms Dries-Jenkins.
He concluded that the chances of the profiles coming from other people were one in a billion.
The prosecution has previously claimed Mr Mason wore a high visibility jacket to give him an air of "status" when he knocked at her front door, moments before, it is claimed, he attacked her.
'Head injuries'
Mr Whittaker said yellow fibres consistent with such high visibility clothing had been found on both the jumper in the bin and Ms Dries-Jenkins' cardigan.
The court also heard from Home Office pathologist Derek James who told the court that Ms Dries-Jenkins had been hit with a blunt object to the head about ten times and possibly more.
She also had neck injuries and broken ribs consistent with being caused by a knee, forearm or a foot.
He gave the cause of death as head injuries.
The trial continues.