Graham Sutherland exhibition at Oriel y Parc, St Davids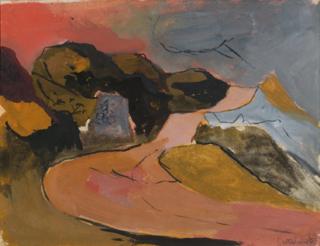 Paintings of Pembrokeshire by the renowned artist Graham Sutherland are to go on show in the county.
Works from the National Museum Wales' Sutherland collection will feature in a new exhibition at Oriel y Parc Gallery and Visitor Centre, St Davids.
"Many of Sutherland's best known works are inspired by the wild coastline of Pembrokeshire," said the museum's Bryony Dawkes.
The exhibition will run from 1 April to 1 July and entry is free.
Sutherland, a contemporary of Picasso and Matisse, and a major influence on both Francis Bacon and Lucien Freud, is regarded as a major figure in 20th Century British art.
Born in London in 1903, he first visited Pembrokeshire in 1934 and was famously inspired by the Welsh landscape.
After his death in 1980 it was revealed that he wanted to leave a collection to Wales because he felt "having gained so much from this country, I should like to give something back".
Ms Dawkes, National Museum Wales' (NMW) partnerships projects curator, said: "This exhibition celebrates both Sutherland's work and this inspirational landscape, so we hope that visitors to Oriel y Parc will enjoy these wonderful works from National Museum Wales' collection, in the place that was so vital to his creativity."
Oriel y Parc, managed by Pembrokeshire Coast National Park Authority in partnership with NMW, was originally created to house a Sutherland collection.