Man hurt in Tata Steel plant incident in Port Talbot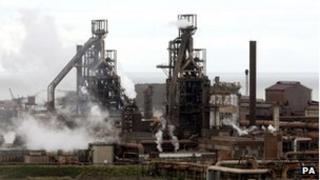 A man has been taken to hospital with superficial burns after an incident at Tata Steel in Port Talbot.
Fire crews from Mid and West Wales Fire and Rescue Service were also called out in the early hours, with reports of a loud bang being heard.
Tata Steel confirmed an incident at a metals recovery area at the plant but said it was not "major".
The Health and Safety Executive said it was aware "and making initial enquiries".
A spokesman for Tata Steel said emergency services were called as a matter of course, and fire crews were on site, he said.
He added the incident - which occurred between 01:00 BST and 03:00 - happened away from the main operating plant in the metals recovery area, which is operated by a contractor.
The Welsh ambulance service confirmed one man was taken to Morriston Hospital in Swansea with superficial burns.
There were reports of a loud bang. One caller in Swansea told the BBC he had been woken up by what sounded like an explosion.
On Twitter, another wrote: "Just heard a huge bang from direction of Port Talbot. Too clear for thunder."
Port Talbot councillor Anthony Taylor, who lives near the plant, said: It was a pretty loud explosion and I was woken by it, and I've spoken to others who live further afield and they heard it too.
"I live less than a mile from the steel works and we have to remember that it can be a dangerous place to work, and we are all aware of what happened with the fatalities over 10 years ago," he added.
Three men died and 12 people were injured at the then Corus plant when an explosion in 2001 destroyed blast furnace number five.
Mr Taylor said because Tata had put measures in place to reduce the overall background noise from the plant any loud noise or bangs from the site were now "more prominent".
Tata employs around 3,500 people in Port Talbot.
Workers were invited to apply to take extra time off at half pay during March due to tough market conditions.