Toyoda Gosei car parts firm plans 500 jobs for Gorseinon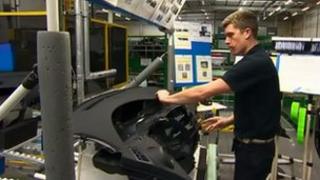 A Japanese car parts company has set out plans to create a 500-strong workforce near Swansea.
Toyoda Gosei was the most recent foreign-owned manufacturer to move to Wales when it bought the former Valeo factory in Gorseinon in 2011.
Production of dashboards and other interior parts for supply to the UK's Honda and Nissan plants began fully at the start of 2012.
The company has initially taken on 160 workers after investing more than £10m.
New clients
Toyoda Gosei said it was confident of finding opportunities in the UK among car makers looking to local suppliers who can provide more flexibility.
Plant manager Gareth Rees said the firm was attracting increasingly good applicants and was well placed to seek new business.
"We have the skills and expertise in the area - all we need is the opportunity to show people what we can do," he said.
"What's happening here is a perfect example of what can be achieved."
It hopes to expand the workforce to 500 employees by 2017.
It was originally reported in January 2010 when the company was putting together its move to Swansea that it was understood it hoped to create 600 jobs.
The plant was originally owned by the French car parts manufacturer Valeo and closed in 2001 with the loss of 330 jobs.
The site was later occupied by online retailer Amazon for 12 months during 2007 and 2008 while it built its distribution centre at Fabian Way.