Hafan Tywi private care home in Ferryside, Carmarthenshire, shut by court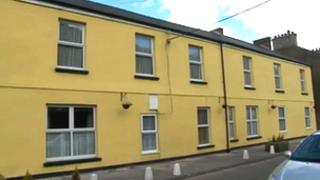 A private Carmarthenshire care home has been forced to close after a court ruled its residents could be at risk.
Hafan Tywi in Ferryside shut last Thursday after a Welsh government application on Care and Social Services Inspectorate Wales (CSSIW) advice.
Officials say such a decision is "very rare".
Llanelli magistrates granted an emergency cancellation of its registration. The home owner could not be contacted for comment.
"This was granted on Thursday, 5 April and contingency plans were put in place by the local authority to ensure the continued care of the residents over the extended weekend," a Welsh government spokesperson said.
"This is a very rare procedure, and is only the second time in the 10 year history of CSSIW that this action has been carried out.
"It is only done when considered absolutely necessary to safeguard the health and well-being of vulnerable service users.
"The dedicated staff in Hafan Tywi have continued caring for residents through this difficult time and their commitment should be applauded."
Hafan Twyi, which is owned by Ferryside Residential Home Ltd, had places for 22 residents, a number of which suffered with dementia.
Health and safety
Catherine Poulter, Carmarthenshire council's community and social care service manager for the Amman Gwendraeth area, said alternative homes had been found for the residents.
"It is a difficult time for residents, relatives and staff," she said.
"The commitment of the care home's own staff is such that they have come into work despite the difficult circumstances.
"The county council had put in a lot of support for this care home.
"We have had a lot of staff try to help them with training, health and safety, and advice about the physical environment to support the home to get out of its difficulties.
"We regret that it was not possible to keep it open."