Potholes on Gower road 'responsible' for cyclist death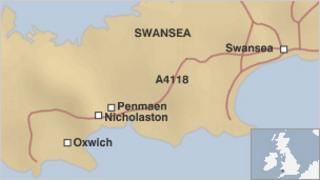 Potholes on a road in Gower were probably responsible for a fatal accident that killed cyclist, Jason Price, an inquest has ruled.
The 40-year-old died last April after falling into the path of an oncoming car on the A4118 near Nicholston.
A verdict of accidental death was recorded at the hearing in Swansea.
Swansea council said it will now consider the inquest findings, and that there were no complaints about the road before the fatal incident.
The hearing was told that Mr Price, an export manager from Blackhills in Swansea, was with a group of eight riders when the accident happened.
He lost control of his racing bike as a BMW car driven by part-time farmer Thomas Jenkins approached.
"If was literally as if he had dived towards the front wheel of the car," Mr Jenkins told the inquest.
"Short of being somewhere else, there was absolutely nothing I could do."
Despite wearing a protective helmet, Mr Price sustained multiple injuries, including to his head, and died at the scene.
Road inspections
The inquest heard evidence of seven potholes in a 10m stretch of the road and one hole was deeper than allowed under highway standards.
But a monthly visual inspection of the road in the previous January had not picked up any defects in the area.
Giving evidence, senior highways inspector with Swansea council at the time, Antony Riley, said the road had been resurfaced less than two years prior to the accident.
He described several of the potholes as "shallow" and said it was possible the defects were only present for a matter of days before the accident.
But the Swansea coroner, Phillip Rogers, concluded that the potholes, or defects were the likely cause of the incident.
"I think that, on the balance of probability, that Mr Price lost control of his bike either as a result of the wheel going into the defect or while trying to avoid it," he said.
'No pothole complaints'
He also added that the BMW driver "had no chance whatsoever of avoiding the collision and I do not think that he did anything to contribute to it".
Following the inquest, a Swansea council spokesperson said: "We will be considering the findings of the inquest but the coroner did say that it was hard to tell if our inspection regime was a contributory factor to the accident."
"We operate a road inspection system based on national guidelines and we also act on calls from members of the public who report road defects to us.
"There were no complaints about the accident location before this accident."