Meningitis: Nicola and Tony Busby back campaign after losing baby son Kadyn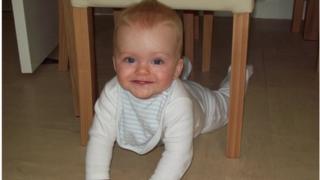 The parents of a 10-month-old boy killed by meningitis on Christmas Day are backing a campaign to highlight awareness of the disease.
Kadyn Busby died hours after being rushed to hospital from Neyland, Pembrokeshire.
His mother and father, Nicola and Tony, are supporting a drive by the charity Meningitis UK to help inform more people about the disease.
A poster trailer will be at a Milford Haven supermarket for the next week.
"Losing our little angel caused us so much pain. It all happened so fast - we couldn't believe it," said Mrs Busby.
"We have since thrown ourselves into supporting Meningitis UK and we want to do all we can to help support vaccine research to stamp out this cruel disease."
The Busbys said their son had two spots on his back which looked like chickenpox, but they rushed him to hospital when he vomited.
He was unable to fight off the infection and died within a few hours.
"I urge people to take notice of the trailer parked up this week and learn all the symptoms of meningitis and septicaemia so that they can spot it quickly," said Kadyn's mother.
"Don't wait for a rash as this can come later when things are at a critical point."
Vaccination hopes
Since their son's death, the Busbys have raised more than £9,000 for Meningitis UK and the charity's bid to find a vaccination for all forms of the illness.
Its founder, Steve Dayman, who lost his own son in 1982 to the disease, said: "Meningitis is notoriously difficult to detect and can strike within hours as Kadyn's experience sadly illustrates.
"For these reasons we believe that the only way to eradicate the disease completely is through the development of preventative vaccines and the awareness trailer is a big part of our public education programme.
"We are so grateful to Nicola and Tony for bravely helping us to get the crucial message out about meningitis and for their amazing fundraising efforts."