Dog Snoopy is best man at Sue and Michael Hopkins' Swansea church wedding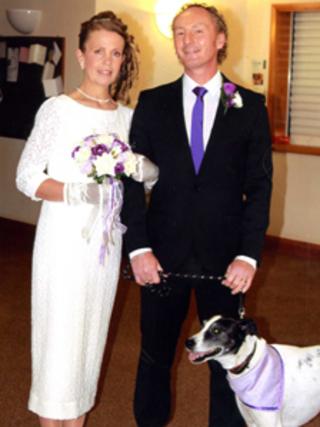 A dog called Snoopy has become the best man at the wedding of his owners.
When Sue and Michael Hopkins tied the knot after 14 years together they did not want their much-loved pet to miss out on the ceremony.
The 11-year-old lurcher known as Snoop kept the rings in a bag round his neck and began barking to let people know the service had finished.
Mrs Hopkins, of Penlan, Swansea, said: "Everybody laughed because he did a massive yawn and then started barking."
The couple are to take their best man with them on honeymoon next month once they have booked a dog-friendly hotel.
They picked him as their best man after discussing it with vicar Nick Stanyon at Manselton United Reformed Church.
Mrs Hopkins, 49, used to live near the vicar and knew him from dog walking in the local park.
Snoopy was a rescue dog from the city's Llys Nini RSPCA animal centre in 2001.
She said: "He was badly treated. We have come a long way with him.
"He's quite placid now. He is an old boy now but he is still quite anxious if the doorbell goes.
"He has still got that bit of fire in him."
She said Snoopy had helped her cope over the years with the cancer deaths of her parents and her sister.
"He's my rock. He brought me through a lot of that. I don't think I would have come through a lot of things without him.
"We always thought we would have Snoop with us. But we thought we were going to lose him at Christmas."
Snoopy was treated for a blood clot and pulled through. Then a week before the couple's wedding he had an operation on his eye.
He recovered from this in time to wear a purple and lilac scarf on the big day, the same colour as the flowers and groom's tie.
Mrs Hopkins said: "Because we have come so far and done so much, we wanted him to be part of the day as well."
She said Snoopy's "massive yawn" came at just the right moment in the proceedings.
She said: "Once he gets bored, he kicks off then, so it was perfect timing. It was as if he was rejoicing as well then."