Swansea's Singleton Hospital receives £4.3m for children and elderly care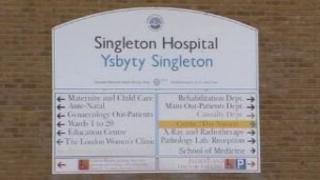 Swansea's Singleton Hospital is set to receive £4.3m to help improve care for children and elderly patients.
Some of the money will be spent relocating an elderly facility from the city's Hill House community hospital to ward four at Singleton.
Meanwhile, a children's development centre (CDC), bringing a number of treatments under one roof at the general hospital, is being created.
The Welsh government said the funding would make a "massive difference".
In a statement, it said the relocation of the elderly facility from Hill House to Singleton would see improvements in privacy and dignity for patients.
Two separate wards at Hill House currently cater for older people rehabilitating from chest and/or heart or stroke problems.
The CDC will be located at wards 14 and 15 at Singleton.
The Welsh government said young patients currently had to travel to seven different locations across Swansea for services including occupational therapy, physiotherapy, speech and language therapy, and community paediatricians.
Abertawe Bro Morgannwg (ABM) University Health Board chairman, Win Griffiths, said: "We very much welcome the continued support by the Welsh government to help us modernise ABM health services and provide patients and staff with a high quality environment.
"These investments will help older patients and also children with disabilities, and we are very pleased to be able to take these developments forward."
Health Minister Lesley Griffiths said the £4.299m would make a "massive difference to two vulnerable patient groups".
"Improvements made in the elderly patient care facilities will ensure safe, sustainable and quality care on a continuous basis and will enhance the patient experience," she added.
Ms Griffiths said the children's development centre would improve services and provide an "appropriate environment".