Port Talbot student and grandmother share £400,000 People's Postcode Lottery prize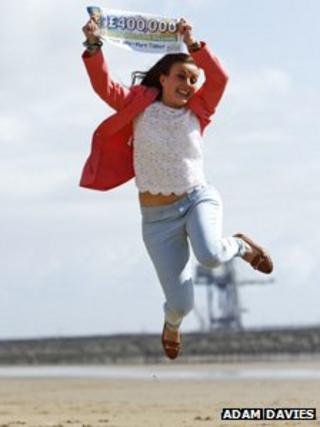 A Port Talbot student nurse and her grandmother have won £400,000 on the People's Postcode Lottery.
Lauren Teesdale, 22, and Sylvia Pask, 70, are sharing the prize after splitting the cost of the ticket they bought together.
Their wins are part of a £2m prize fund shared by the town's residents living in SA12 6 who take part.
In total, 42 residents received cheques from £8,330 to £99,960, including 20 players winning £33,320 each.
"We have always said that we would share any prizes we won, as we split the cost of a ticket," said Ms Teesdale, a mental health nursing student at Swansea University.
"I just never imagined the prize to be so big. Thank goodness for my gran living where she does.
"I can now buy myself a house, and not have to worry about paying the mortgage each month from my student budget."
Ms Teesdale, who also works part time in a local learning, disabilities and mental health home, picked up the prize on behalf of her grandmother.
"My gran doesn't really like crowds so I said I would attend the winners party, and call her with the good news.
"I will have to tell her this in person though, otherwise she may faint."
She added: "My gran has always said she would like to go on a cruise - maybe now the whole family can go together."