Five Swansea City fans given three-year bans from matches in UK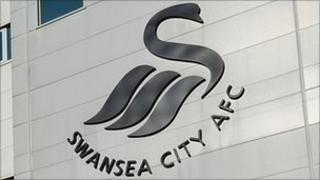 Five Swansea City fans have been banned from attending football games in the UK for three years following incidents at a number of Swans matches.
Daniel Martoni, 18, Rhodri Boosey, Mark Morgan, Matthew Mackinnon, all 20, and Sean Aspland, 23, all pleaded guilty to involvement in violence and disorder.
They were banned at a civil hearing at Swansea Magistrates' Court on Monday.
They also must not enter any town or city where Swansea City or Wales are playing away on the day of a match.
The order was made on the basis that they had caused or contributed to violence and disorder.
The court agreed they should be banned despite never having been arrested or convicted of football-related violence.
Supt Phil Davies said the bans were a warning to repeat offenders.
"South Wales Police can, and will continue to pursue civil banning orders against those who are frequently and actively engaged in incidents of disorder at football events regardless of whether they have been arrested or convicted," he added.
"I'm sure that every Swansea City fan will agree that on the field results this season have been exceptional and going forward nobody will want to miss out on the continued success of the team.
"Therefore these cases should once again be seen as a deterrent to anyone thinking of getting involved in either organised or spontaneous disorder."