Digger in CK's Supermarkets 'ram raid' attack in Newcastle Emlyn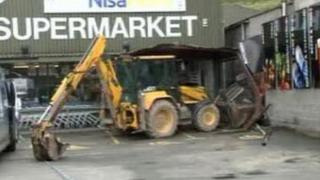 Police are investigating after a stolen digger was used in a "ram raid-style" attack on a Carmarthenshire supermarket.
The raid at CK's Supermarkets in Newcastle Emlyn happened at about 03:00 BST on Monday, but nothing was taken.
It is understood that two diggers were stolen. One ran out of fuel, forcing thieves to steal a second.
The machine used in the incident, which smashed glass and damaged roofing, was taken from a nearby DIY store.
Dyfed-Powys Police said the digger was used to gain entry.
"We are investigating a ram raid-style burglary at a premises in Newcastle Emlyn where a JCB was used to try to gain entry," said Det Insp Mark James of the Dyfed-Powys force.
"I ask that anyone who was in the Newcastle Emlyn area during the early hours of Monday morning who saw JCB vehicles driving in the town, or saw any activity which they may now consider as suspicious, to contact Dyfed-Powys Police on the 101 number, or alternatively to contact Crimestoppers 0800 555111."
CK's Supermarkets managing director Christopher Kiley said he had been trading at the site in Newcastle Emlyn for 20 years.
"It's hugely disruptive, but in all fairness our customers are supporting us and we hope to get the place tidied up as soon as we can," he added.
"It was a very nice shop front, all glass. We don't know whether to replace it in the same way or not."
Mr Kiley said the digger was taken from a DIY store across the road from his supermarket.
He added that nothing was stolen from his premises.