Tir John: Environment Agency criticism over explosion fears at Swansea landfill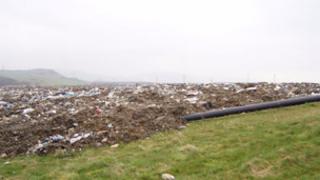 The operators of a Swansea landfill site have been criticised after it emerged there could have been a serious gas explosion at the site.
The Environment Agency Wales report found rubbish was spread over a gas pipe at the Tir John site, which could have been ruptured by machinery.
Rubbish was also tipped on "capped" land, which could have caused contamination, the report found.
Swansea City Waste Disposal said it had made improvements and planned more.
The report said waste had been spread over a gas collection main.
It said: "Had the placement of the wastes, which was placed using a large excavator, ruptured the gas main then this could in turn have caused a serious incident at the site (eg explosion/fire)."
The report said while the pipework was designed to be robust, it was not intended "to be driven over without an adequate and carefully placed protection layer."
It said the pipe remained intact, but gas contractors will need to supervise waste excavation from the area.
Waste was tipped on to capped land, which was no longer used for landfill, and could have contaminated water.
It says: "Leachate from the waste was clearly visible during the inspection.
"However it is fortuitous that on this occasion the contaminated liquid was actually flowing into the cell's leachate system and not the adjacent surface water system.
"There is no conceivable reason or justification for this poor practice and measures to ensure no re-occurrence must be implemented with immediate effect.
Action plan
"This failure raises serious concerns over the general management of day-to-day activities at the facility which must be addressed."
Swansea council set up Swansea City Waste Disposal as a separate company to run the site.
In a statement, Swansea City Waste Disposal said it was preparing a permit application to allow for further landfill to take place in Cells 16 and 17 at the site.
It read: "As part of this process the environment agency conducted a visit to the site and, as a result, has made a number of comments to the company relating to the need to improve the day-to-day management of the site.
"Improvements have already been carried out and the [Swansea City Waste Disposal] board, with the support of the council, has agreed an action plan to implement a number of further improvements to the operation at Tir John.
"The environment agency is aware of the action plan and is supportive of the approach being taken to address their concerns."