Swansea bay bids for city region status to boost economy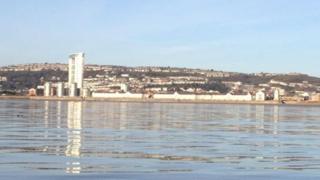 The Swansea bay area is bidding to have "city region" status in an effort to boost investment and job opportunities.
The move would see Swansea, Llanelli and parts of Neath Port Talbot work together to strengthen business links and stimulate economic output.
The Welsh government is consulting on whether to introduce city regions in a number of possible locations.
They are studying similar successful models in the UK and abroad, including Vancouver, Stuttgart and Bilbao.
Options include the whole former industrial south Wales; south east Wales and Swansea bay; Swansea, Cardiff and Newport; north Wales based on the A55 corridor; or a cross-border Wrexham, Deeside and Chester area.
Investor confidence
In the Swansea area, the chief executives of the three neighbouring local authorities have pointed to already existing links between the areas which could be strengthened by adopting a unified region strategy.
Mark James, Carmarthenshire's chief executive, highlighted companies such as Tata Steel in Port Talbot, the Amazon distribution centre in Swansea and a recent announcement by Virgin that it would be bringing 250 call centre jobs to the city as evidence of investor confidence in the area.
He added: "All three universities in south west Wales also have a strong track record of collaboration through the Dragon Innovation Partnership while Swansea Metropolitan University, Trinity St David [in Carmarthen and Lampeter] and the University of Wales are in process of merging to create a regional institution."
The city region could build on existing bodies like South West Wales Economic Forum and the Swansea Bay Partnership, according to Neath Port Talbot chief executive Steve Phillips.
"The call for evidence says city regions with a population of more than 500,000 are strong drivers of economic growth. With a population of 667,700 in south west Wales, a Swansea Bay city region would comfortably exceed that threshold.
"The strong commuting flows across the area also strengthen Swansea Bay's case."
'Crisper focus'
Dr Elizabeth Haywood, the director of South East Wales Economic Forum, is the chair of a Welsh assembly task and finish group looking into the feasibility of setting up city regions in Wales.
She explained the potential advantages of having such zones, saying it could be difficult for investors from outside the area to work out who was in charge at any particular level, which a city region could help overcome.
"There's a much crisper focus in terms of regional leadership," she told the BBC Wales News website.
"If you look from the point of view of potential investors, where would you go and how would you approach different areas.
"If China wants to do business with Wales, it can go to the Welsh government but if you are looking at a regional area you don't know where to go."
Dr Haywood added: "Looking at the 22 local authorities in Wales, they are all very small and there is no doubt that larger regions tend to have better economic success.
"If you have a focus around a city, you tend to have growth around that city. Cities attract talent; you have a pool of labour, transport and facilities, housing resources."
The group is expected to report back to the assembly before the summer recess.