Celtic Challenge: Sue Kent, disabled by thalidomide, coxes Mumbles longboat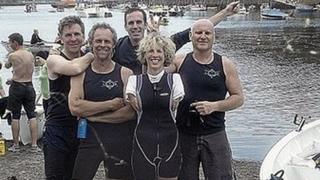 A Swansea woman disabled by the drug thalidomide is coxing a longboat rowing team across the Irish Sea.
Sue Kent, 49, who was born with 8in (20cm) arms and seven fingers, is steering a Mumbles amateur rowing crew from Arklow in Ireland to Aberystwyth.
The 100-mile Celtic Challenge longboat race is staged every other year, and can take up to 24 hours.
Mrs Kent, a barefoot masseuse, said: "I've got a great set of lungs and I love bossing people, so it's superb."
Organisers said 23 teams, including 15 from Wales, had had to wait for better weather to start the 2012 west-to-east race on Saturday.
Each boat is about 24ft (8m) long and has room for four rowers on fixed seats and one cox.
Each team is comprised of 12 people who take it in turns to row. They spend the time between rowing shifts on a support boat.
Team members are usually transferred between the longboat and the support boat via a small inflatable boat, with the transfers becoming a part of the team's tactics.
Mrs Kent coxes Mumbles Amateur Rowing Club teams using her feet and her hands. Clip-on adaptations to the boat water-pumping systems to allow her to carry out her role effectively.
She said she had been practising for the race for about a year, although most inshore races take less than an hour.
Preparations for the Celtic Challenge include transferring in and out of the longboat.
She said: "I can't climb myself. They are just going to have to haul me. Mumbles lifeboat men and various people from Mumbles yacht club are going to lift me, so we've had to practise a lot of that."
Her role will be to "steer the boat in the right direction" and keep the crew motivated, she said.
'Battling the elements'
She added: "You are battling against the elements, you've got the tide, you've got wind, you've got the waves.
"It's a fairly safe way to be out on the ocean. It's a very stable boat. You are not as slick through the water as you are on river rowing, but it's very exciting and very challenging.
"We're quite a good crew. We've trained a lot. I'm hoping we'll do it in good time."
The longboat race is not the only sporting challenge Mrs Kent faces this year.
She has been taken on by the Paralympics to give massages with her feet to athletes.
Mrs Kent said she found her calling after massaging her son when he developed a bad back from sailing.
She turned to massage, qualifying as a masseuse three-and-a-half years ago, after she gave up her job in marketing and advertising to look after her parents when they were ill.