Fishguard and Goodwick train station officially reopens after 48 years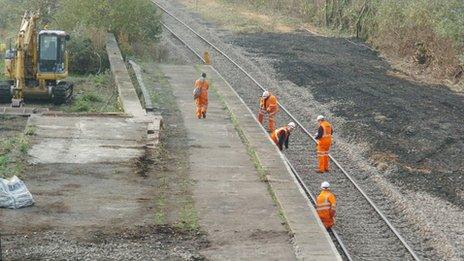 A railway station in Pembrokeshire has officially reopened after being out of service for 48 years.
Fishguard and Goodwick railway station closed to passengers in April 1964.
The reopening follows a long campaign by a passenger group which says the existing Fishguard station at the ferry terminal is too far outside the town.
About £325,000 has being spent on the old station, while the Welsh government spent £1.4m funding five extra trains in the area running Monday to Saturday.
The North Pembrokeshire Transport Forum (NPTF), which campaigned for a better station and improved services, said parking at the old station was also prohibitively expensive.
Secretary Hatti Woakes said she was "absolutely delighted" at the new station.
She added: "It has the potential to be a hub for so many things - walkers, cyclists, busses - the only thing missing was a decent train service.
"This is the last piece of the jigsaw. It's wonderful.
"We were involved in the preparation of the new timetables and we tried to design them so that people can travel when they want to.
"We're now getting people commuting to Carmarthen, which we have never had before.
"One B&B owner says her business has doubled and the people who stay with her think the new services are wonderful.
"We feel we're now linked up with the rest of the world."
The old derelict timber station building has been cleared and Network Rail has lowered and re-aligned the track closer to the existing platform.
Services on the main south Wales line to Fishguard were enhanced in September, with the number of trains rising from two to seven.
Related Internet Links
The BBC is not responsible for the content of external sites.