Carmarthenshire council leader Meryl Gravell steps down after 13 years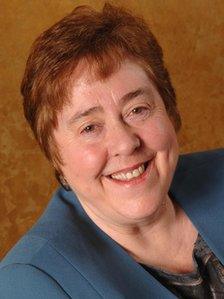 The longest serving council leader in Wales will step down after a coalition was agreed betwen Labour and independents in Carmarthenshire.
Meryl Gravell, who led the council for 13 years, will be replaced by a Labour leader after they won more seats than her independents in the local election.
Independent group leader Pam Palmer said it was in the county's "best interests" to stay working with Labour.
Plaid Cymru, the largest party, said it was a "slap in the face" for voters.
Discussions have been ongoing since the local elections on 3 May resulted once again in no single party winning overall control in Carmarthenshire.
The Independents had played the leading role in a coalition with Labour over the last eight years.
The agreement is for a 12-month partnership which will be reviewed after a year.
The Labour group was due to meet later on Monday to choose a leader and deputy leader, with further announcements on the executive board and other positions expected in the future.
Current Labour group leader Coun Kevin Madge said: "I am delighted that we have formed the new coalition with the Independents.
"We can carry on the good work done over the last eight years delivering for the people of Carmarthenshire in both rural and urban areas.
"We are looking forward to delivering more first class services, strengthening and further developing our education and regeneration programmes, and continued partnership working with the Welsh government."
Coun Pam Palmer, leader of the independent group, said: "After careful consideration, we have decided that it will be in the best interests of the residents of Carmarthenshire to continue our existing coalition with the Labour group.
"The coalition has delivered record investment in schools, housing and regeneration, and we want to build on that success, with a particular focus on rural areas.
"We will continue to work in partnership for the good of Carmarthenshire."
Plaid Cymru - the largest party on the council with 28 seats - have accused the Labour and Independent groups of showing "utter contempt for the democratic process" by forming an administration which excludes them.
"This is a slap in the face for the 30,000 Carmarthenshire people who voted for us on May 3rd," said Plaid group leader Peter Hughes Griffiths.
"I'm sure that thousands of people who voted Independent will also be deeply disappointed that their councillors have decided to support a Labour-led council."
Mrs Gravell was narrowly re-elected in the local elections which saw several council leaders across Wales lose their seats.
In February she survived a no confidence vote which followed remarks she made about staff and some hospital protesters she referred to as "rabble".
The comments had been filmed by a member of the Unison trade union at a speech she made in Llanelli in January.
She said her remarks related to a minority who heckled health managers at the event but admitted they had been "ill chosen".
Related Internet Links
The BBC is not responsible for the content of external sites.