Carmarthenshire council chief fined for double-yellow parking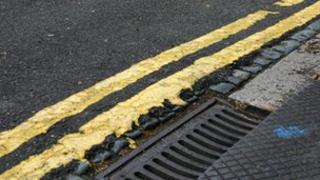 There have been calls for the chief executive of Carmarthenshire council to apologise after he was given a penalty for parking on double-yellow lines.
Mark James was fined £30 after stopping on a street just metres away from a council public car park.
Arwyn Davies, who chairs the Carmarthen Civic Society, said Mr James should have been setting an example to the public.
In a statement, Mr James accepted that he had parked illegally.
"I parked briefly and accept that I should not have. It has cost me £30," said Mr James.
The incident occurred about 35m (115ft) from the public John Street car park in Carmarthen.
The facility there has been the focus of anger from shoppers recently, after car parking charges were raised.
Mr Davies said he felt it was astonishing that Mr James parked illegally just metres from a council run car park.
He said he believed the chief executive should apologise after the incident.