Diamond Jubilee parties held across south west Wales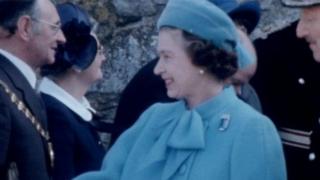 Dozens of street parties are planned across south west Wales to celebrate the Queen's Diamond Jubilee.
Swansea council has authorised 33 official road closures for street parties, with six in Carmarthenshire and 11 in Pembrokeshire.
Swansea council has arranged events from Saturday to Tuesday, including a Jubilee lunch for 200 people.
In Carmarthenshire, a fireworks display will be held at the Prince of Wales' home, Llwynywermod, near Myddfai.
However, some anti-monarchist events are also planned around Wales.
Swansea council has arranged a series of events starting with music and children's entertainment at the city's Indoor Market between 10:00 BST and 16:00 BST on Saturday.
On Sunday, the Big Jubilee Lunch - a project aimed at getting as many people as possible to have lunch at the same time across the UK - will be held at Castle Square between 10:30 BST and 15:30 BST.
About 200 people are expected for the event, with tables being reserved via the council.
On 4 June, a beacon will be lit on Swansea Castle. Part of a sequence around the UK, it is thought Swansea's beacon will be lit between 22:00 BST and 22:30 BST.
A big screen will also show coverage of celebrations across the UK, including the Jubilee concert at Buckingham Palace, and a thanksgiving at St Paul's Cathedral in London on Tuesday.
Carmarthenshire and Pembrokeshire councils have not arranged official events, but parties are planned across the counties.
A Jubilee tournament will be held at Cosheston playing fields in Pembrokeshire on Saturday, with a beacon party at Withybush showground on Monday at 19:00 BST, as well as fireworks at St Dogmael's Abbey on Monday.
The Queen the Duke of Edinburgh are no strangers to the region, and some of the south west's best-known locations were opened by Her Majesty.
In 2001, the Queen officially opened the £10m headquarters of Pembrokeshire council in Haverfordwest.
During that visit she also greeted well-wishers in St Davids which she granted city status six years earlier.
Carmarthenshire's Millennium Coastal Park in Llanelli was opened by the Queen in June, 2002, on her Golden Jubilee tour.
Six years later, she was in Swansea to officially re-open the city's leisure centre after a £32m revamp. The original, council-run centre had been opened by the Queen in 1977, the year of her Silver Jubilee.
Carmarthenshire council said it had granted a licence allowing the Myddfai Ty Talcen charity to hold a ticket-only fireworks event with two marquees for guests at the Prince of Wales' home, Llwynywermod, on 4 June.
Various events, including beach games, music and fireworks will be staged between 11:00 BST and 22:00 BST on Monday at Pendine.
The council has also approved six temporary event notices for 4 June in Llandeilo, Llanwrda, Abergwili, Llandovery, Bynea and Cwmann, as well as six road closures across the county.
It said other parties in cul-de-sacs - which do not require closure permission - were also expected.
However, not everybody is celebrating the jubilee.
Anti-monarchist group Republic's aim is to replace the Queen with a democratically elected head of state.
Its members plan to protest during the jubilee celebrations.
Nick Wall, Republic's chairman in Wales, told BBC Wales: "It's an institution with a great deal of political power and we believe that political power should be subject to the ballot box and not just a consequence of bloodline."