Fort on St Catherine's Island, Tenby, could reopen as visitor attraction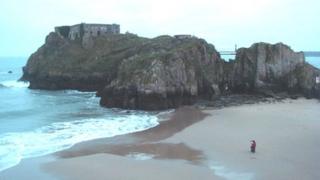 A Victorian fort on a tidal island off Pembrokeshire could reopen as a visitor attraction as early as next year.
St Catherine's Island, just 100m off the coast at Tenby, could become home to a historical experience with costumed guides under new plans.
Project manager Peter Prosser said the key would be approval for a bridge linking the island to the mainland.
"We have been trying for 20 years - many people have gone down this road before and hit a brick wall," he said.
Coastal defence
Once owned by Henry VII's uncle Jasper, Earl of Pembroke, the island was sold by Tenby Corporation to the War Office in the 1860s to house a fort.
The structure was completed in 1870 as part of prime minister Lord Palmerston's plans to defend the British coast from foreign attack.
The fort was sold as a private residence in the early 1900s and later housed a zoo, which closed and was abandoned in the late 1970s.
Mr Prosser said it was time the island and fort were reopened to the public.
He said the plan was to turn the fort into a historical visitor attraction, employing nearly 40 people.
"We're hoping to make a great family attraction ... a place where you'll find history and become involved in history," he said.
The premises could be made available for community use outside the tourist season, Mr Prosser added.
He admitted that several attempts to reopen the island size the 1970s had faltered, largely due to the issue of permanent access to the mainland.
"Putting a bridge across is integral to the project ... that 100m is critical," he said.
"Currently the tides limit pedestrian access to the island to one week in two, and then for a maximum of six hours a day."
A spokesperson for the Pembrokeshire Coast National Park Authority said: "The authority is currently involved in early and informal discussions with the potential developer about the future use of St Catherine's Island, but no formal application has yet been received."
Mr Prosser said the Tenby Island project team were in the process of carrying out a range of studies, including consideration of the island's wildlife, before submitting planning proposals in June or July.
He said it could take several years to bring the project to fruition, and was wary of raising expectations given the failure of previous attempts to reopen the fort.
But he added that with public and official support it could happen sooner.
"We'd like to be open for 2013 - we'll fight tooth and nail for that to work."