Swansea University Egyptian Centre acquires relics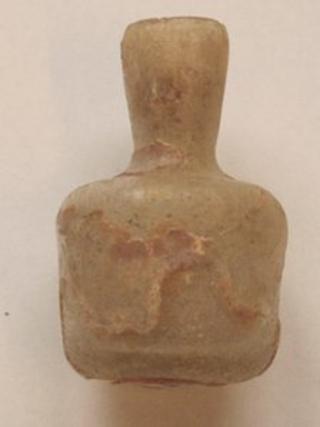 A collection of over 30 ancient Egyptian artefacts, some up to 3,000 years old, has gone on show in Swansea.
Swansea University Egypt Centre has taken possession of the objects, which include scent bottles, figurines and amulets, on a 10-year loan.
The collection has been loaned by Woking College, Surrey.
The Egypt Centre's curator, Carolyn Graves-Brown, said it was extremely unusual for a museum of Egyptian antiquities to acquire new objects.
The artefacts include two glass bottles from late in Egyptian history (c100BC - AD200), around the time of Cleopatra.
Several shabtis (servant figurines) which the ancient Egyptians believed would do work for their deceased owners in the afterlife, date back about 3,000 years.
Shabtis, mirroring real life work teams, were organised in gangs of 10. Each gang would be overseen by a foreman, or overseer.
Other objects include:
Amulets, including an amulet of Sekhmet (a fiery, female goddess with a feline head) and another amulet of Shu (who separated heaven and earth)
A head of the god Bes (protector of children and women in childbirth)
A pendant in the shape of a lotus or papyrus sceptre
Several pottery vessels
A Sokar hawk (Sokar was a god associated with rebirth)
The collection was donated to Woking College in the 1970s and rediscovered by its principal, Martin Ingram.
When he sought the advice of the British Museum on where it would be best put to use to encourage current students to pursue their studies in ancient history, the Swansea centre was suggested.
As part of the agreement the Egypt Centre will organise educational activities for Woking College which involving the loaned artefacts.
Mr Ingram said he was delighted the objects would be made available to learners and academics.
"I hope that our connection with the Swansea University will encourage more students to aspire to higher education," he said.
Ms Graves-Brown said: "Because of the finite number of legally acquired ancient Egyptian objects available to museums, it is extremely unusual for a museum of Egyptian antiquities to acquire new objects.
"We hope that these exciting new acquisitions will both delight the museum's visitors and encourage more students to attend university."
The artefacts are on display in the Egypt Centre, which said it hoped to put all the items on its website by the end of the summer.