Four Swansea City fans banned, despite no convictions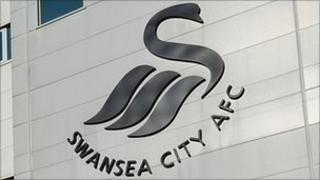 Four Swansea City supporters have been banned from all UK football games for three years, despite never having been arrested or convicted of match-related violence in criminal law.
Casey Ashleigh Owen, 20, Dale Powell 23, Jack Clarke 19, and a youth, 17, all pleaded guilty at Swansea Magistrates Court on Tuesday.
South Wales Police applied for the banning orders in civil law.
The court found the four caused or contributed to violence and disorder.
As part of the order, under the Football Spectators Act 1989, the four must also not enter any town or city where the Premier League club or the Wales national team are playing away on the day of the match.
Supt Phil Davies said one of the force's main objectives was to support Swansea City in the club's aim of creating a family-friendly atmosphere at games.
"These orders show a clear intention by South Wales Police to continue to pursue civil banning orders against those who blatantly and actively look to engage in incidents of disorder at football matches regardless of whether they have been arrested or convicted," he said.
Supt Davies said the force would continue to monitor the bad behaviour of a minority of fans.
"We will seek them out and take robust and appropriate action," he said.