M4 junction closure plan raised in Neath Port Talbot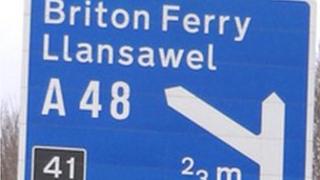 Plans to improve a congested stretch of the M4 in Neath Port Talbot, which include closing junctions, look set to be discussed by the Welsh government.
Transport Minister Carl Sargeant has agreed to a study taking place on the elevated section from junction 38 for Margam and junction 42 for Fabian Way.
That stretch has also been found to have an above average level of accidents.
A public consultation will be launched once the proposals are drawn up.
In a letter written to MPs and AMs in the area, Mr Sargeant said: "This section suffers from poor alignment, sub-standard junctions, congestion during peak hours and has a higher than average rate for road traffic collisions.
"The current junction arrangement encourages the use of the motorway by local traffic for short trips.
"A range of options will be identified including the closure or partial closure of junctions 40 and 41, the installation of an average speed camera enforcement and ramp metering of junction 41 eastbound.
"Consequential improvements required to the local road network will also be considered."
Public consultation is expected to start at the end of summer.
But Steve Redmore, manager of the Aberafan shopping centre in Port Talbot is against the idea of closing junctions.
"This would be one of the final nails in the coffin as far as retail is concerned in Port Talbot," he said.
"We rely on people to come off the M4 from Swansea and Bridgend areas but this would drive them elsewhere.
'Bucking the trend'
"The shopping centre is bucking the trend in some respects and we are more or less punching above our weight.
"I've already mentioned it to the landlords who are waiting to hear what the proposals are before deciding what to do."
Neath Port Talbot council leader Ali Thomas said he sympathised with Mr Redmore but said he agreed with all the problems raised by Mr Sargeant.
"What is important is we do it for safety reasons, environmental reasons and for the betterment of the whole community," he said.
"These projects are all important and that all have their advantages and for some people, they have disadvantages.
"We will certainly take all of the minister's advice and comments into consideration."
Bethan Jenkins, Plaid Cymru AM for South Wales West, said the stretch of motorway had been struggling to keep up with 21st Century traffic levels and wants to see "some real innovation".
She added: "What we are looking for is a road artery that assists local traffic movement, reduces pollution, and allows drivers and visitors to Wales to make their way onwards without encountering some of the considerable problems that have become associated with this stretch of the M4.
"I hope people in Aberafan do take part in the consultations.
"I'll be urging the minister to focus on these aims rather than simply tinkering with the current set-up - if only because I worry that this kind of response will only put the problems off to another day further down the line."
Port Talbot is already having a £107m dual carriageway built through the town which stretches from junction 38 to Baglan Moors to take pressure off the M4 and is due to open in 2013.