Parc Pelenna holiday lodge plans submitted to Neath council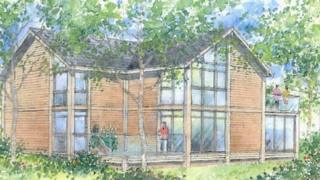 Plans to build a complex of 72 holiday homes, costing up to £30 million, have been unveiled.
Parc Pelenna, near Neath, already has permission for 11 lodges, but is in talks with the council for a larger park, based on an equestrian theme.
The plans include a swimming pool, stable block, cycle store and new access road for the lodges.
Neath Port Talbot council said more information was needed before plans were considered.
The development will cost between £20 million and £30 million.
Businessman John Harris, who has been working the plans for the last couple of years, said the development on 100 acres of land is based on an equestrian theme.
"We think it will bring a new type of tourism to the area," he told BBC Wales.
"There's various support for the need for more beds in the area. The local authority agree there is a need for more accommodation.
"We intend to build very high quality houses but bring in partners who are already in the area for the activities.
"The intention is to be a year-round resort. People can have plenty of fun in the rain as well as the sun."
Mr Harris added that the homes, should the development be granted planning permission, would be built in phases "as demand grows for the site."
He said jobs would be created through construction and once the site is up and running.
He could not put a figure on how much the development could bring to the local economy, but the application submitted to the council said it would be a "considerable boost."