Awema: Ex-chief Naz Malik Big Brother figure claim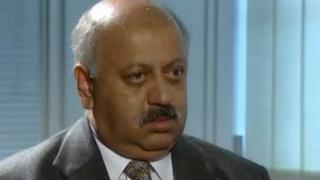 The former chief executive of the All Wales Ethnic Minority Association (Awema) has been described as a "controlling" Big Brother-type figure at an employment tribunal.
Naz Malik is accused of the sexual discrimination, harassment and victimisation of a former employee.
Finance officer Sylwia Bobrowska was dismissed last October.
Awema itself was wound up earlier this year over claims of mismanagement and it lost Welsh government funding.
The tribunal in Cardiff heard from a former development officer at Awema, Saskia Hamer, who said that Mr Malik was "intimidating and controlling in every way" and that the George Orwell books Animal Farm and 1984 "sprang to mind".
She told the tribunal he had said that "dresses and short skirts were welcome" as attire for women in the office.
Sylwia Bobrowska claims Mr Malik is responsible for sexual discrimination, harassment and victimisation before she was dismissed in October last year. He denies her claims.
Ms Bobrowska will give evidence later.
Administrators were called in to wind up Awema's affairs in February after a report said there was a "fundamental lack of control" at the Swansea-based charity.
The findings of the Welsh government and Big Lottery Fund report into the spending of £8.4m in public funding were examined by police.
It said charity funds were used to pay for gym memberships for staff worth £2,120, rugby and cricket tickets totalling £800, and a £110 parking fine for Mr Malik.
It also said there was a "clear conflict of interest" because one of the charity's directors reporting to Mr Malik was his daughter Tegwen. There were "considerable increases" in her salary from £20,469 to £50,052.
Mr Malik and finance director Saquib Zia were sacked by the charity.