E. coli find closes cockle beds in Three Rivers estuary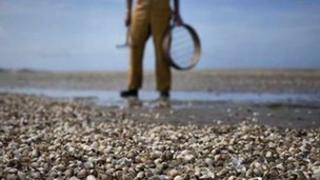 Cockle beds in all parts of the Three Rivers estuary in Carmarthenshire have been closed because of "significantly high" levels of E. coli.
Notices have been erected along the estuary warning people cockle picking has been banned.
The council said the ban will be in place until further notice.
More testing will be carried out over the next two weeks as two further samples taken seven days apart are needed before the beds can re-open.
The council notice said: "This action has been taken with a view of protecting public health because samples of shellfish taken this week by Carmarthenshire county council from the specified site revealed significantly high levels of E. coli.
"Having taken appropriate advice from the Centre of Environment, Fisheries and Aquaculture Science (CEFAS), this authority has considered it necessary, on a precautionary basis to place appropriate restrictions on the site in question."
In October last year, cockle beds on the Swansea side of the Burry Inlet were temporarily closed after shellfish samples tested positive for E. coli.