TV actor Gary Suller murdered by love rival Barry Bowyer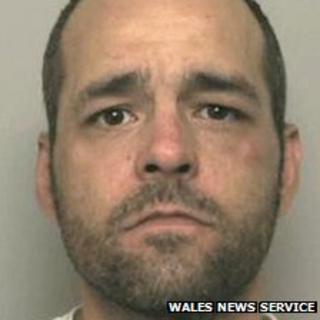 A jealous rival who murdered a TV actor in a "brutal and prolonged" attack over a prostitute they both loved has been jailed for life.
Gary Suller, 45, was tied up and beaten to death at his home in Cwmbran, suffering "gross and fatal injuries" normally associated with a car crash.
Mr Suller had parts in Doctor Who and Casualty.
Barry Bowyer, 38, from Croesyceiliog, was convicted by a jury at Cardiff Crown Court and must serve 30 years.
Bowyer admitted burglary and manslaughter but denied the murder in September 2011.
He insisted he did not intentionally set out to kill Mr Suller after breaking into his house and simply had "lost control" during a fight.
The trial heard both men were in love with 27-year-old heroin addict Katie Gilmore.
Mr Suller was "besotted" and wanted to marry Miss Gilmore and they even went to a register office together to make plans.
But three weeks later Miss Gilmore met Bowyer - and began seeing him at the same time.
The court heard how Miss Gilmore, who worked in a massage parlour, played the two men off one another.
Prosecutor Peter Davies said: "Bowyer contemplated, planned and carried out an attack at the home of a man he detested.
"He laid in wait for Gary to come home before commencing a savage and bloody attack on the helpless man.
The jury heard Bowyer "hated" Mr Suller because he was afraid of losing Miss Gilmore.
But Miss Gilmore strung Mr Suller along for his money while never intending to go through with marriage.
She told the court: "I had more feelings for Barry than for Gary. I've fallen in love with him.
"I use to go to Gary when I had arguments with Barry but I always went back to him, he was the one I wanted to be with.
"Barry was jealous about the amount of flowers and letters he sent to me and I can't say I blame him."
The court heard Bowyer told Miss Gilmore that if she didn't get rid of Mr Suller, he would.
Mr Suller was found dead with "grotesque injuries" at his three-bedroomed home in Pontnewydd, Cwmbran which Bowyer ransacked before escaping.
Judge John Curran told Bowyer that Mr Suller had done nothing but try to help Miss Gilmore out of love for her.
He added: "You and your partner Katy Gilmore both regarded Gary as somebody who would provide her with accommodation and help - he did that because he loved her.
"You resented his attempts to help her in starting a new life and you threatened him.
"You sent him texts saying you would kill him. He was frightened of you and rightly so.
'Callous and premeditated'
"You broke into his house to rob him and Gary had the tragic misfortune of returning home.
"It was a brutal and prolonged attack."
John Williams, prosecuting, said the attack was "brutally violent and utterly senseless".
"Whilst Bowyer admitted he was responsible for Gary's death, he has never acknowledged that this was a callous and premeditated act on his part."
Gwent Police Acting Detective Superintendent Peter Jones described the crime as "shocking and depraved".
"Our thoughts remain with Gary's family, who continue to be affected by his death," he said. "They have shown nothing but courage and dignity during this harrowing ordeal."
The Independent Police Complaints Commission (IPCC) has found there was no misconduct by individual Gwent Police officers or staff in the contact they had with Mr Suller before his murder, but did find "organisational issues."
It said the force had let Mr Suller down and he did not receive the service he should have done. The IPCC said Gwent Police was making changes after recommendations.