Brechfa fails in bid to buy village pub the Forest Arms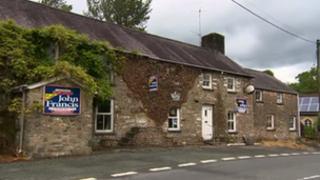 Villagers have failed in their attempt to take ownership of their empty local pub.
People in Brechfa, Carmarthenshire, raised about £60,000 as part of their fight to save the Forest Arms, but conceded defeat before its auction.
The pub, which has been closed for several years, was sold to a private buyer for £128,000.
The buyer has been sent a letter by the local community asking them to get in touch to discuss its future.
Peter Polish, chair of the Llanfihangel Rhos y Corn and Brechfa Community Association, said the total raised by the community was not enough, and warned that Brechfa was not alone.
"It has galvanised people, but what's happening here is important for other rural villages in Wales.
"The Welsh assembly is going to have to pay attention to village life if they want thriving communities."
Mr Polish said he hoped the pub would be reopened to give passers-by, such as users of the nearby mountain bike tracks, a reason to come to the village.
"With no pub, people are less inclined to stay in the area," he said.
"We need a broader infrastructure to make it work."
Brechfa has recently been hit by a series of closures, including its chapel, which was shut last year.
The village's Welsh speaking school - Ysgol Brechfa - is also due to close in September, which Mr Polish said would create "a hole in the community".
"We are going to try and find another educational use for it," he said.
'Vital resource'
"We will consult with the community and then negotiate with the council."
Nine years ago, local people stepped in to save the community shop when it too was threatened with closure after winning funds from the Rural Development Plan.
Mr Polish said the shop had become a vital resource for the village.
"A community is quite able to run its own things," he said.
"It's important to have a sustainable village; you need a school, a pub, a post office and a shop and gradually we've lost all those things.
"A lot of community-owned premises work well, especially for the elderly as it can be difficult for them to get into town," he added.