Cows got on track causing derailment after 'repairs'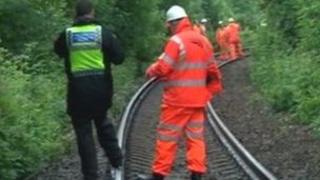 Cows which caused a train derailment in Pembrokeshire are thought to have got onto the track through a footpath level crossing where repairs were recently carried out.
Thirty passengers were on the service to Fishguard Harbour when it hit cows at about 19:00 BST on Thursday.
Network Rail said it was taking the incident at Welsh Hook very seriously and an investigation was under way.
The train has been put back on the track where it is awaiting inspection.
The line is expected to be reopened for scheduled services on Sunday afternoon.
Mark Langman, Network Rail's route managing director, said he fully understood "the distress caused to passengers on the train and to the local community".
"We are working closely with British Transport Police, Arriva Trains Wales and the Office of Rail Regulation to understand the sequence of events that took place," he said.
"We believe that the cows entered the railway via a footpath level crossing where repairs had been conducted within the last few weeks."
A bus service is operating between Carmarthen and Fishguard Harbour but passengers have been warned to allow more time for their journey.
The disruption will affect passengers catching ferries to Ireland but services west of Carmarthen to Milford Haven and Tenby are not affected.
The first car of the train derailed in the incident.
Fire crews evacuated the train, and walked them up the track to the road where they were met by a coach to continue their journey.