Pembrokeshire child abuse row: Board takes control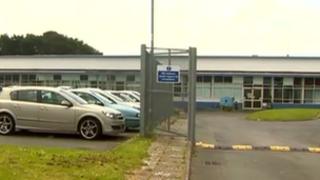 A council criticised in a child abuse row has been told it must answer to a special board under the control of the education minister.
Leighton Andrews says he has "little confidence in certain senior officers" at Pembrokeshire council.
It comes after claims of children being locked in padded "time out" rooms and of one's hands being tied by a teacher.
Council leader Jamie Adams said the local authority was "making good progress" on the issue.
The issue of how Pembrokeshire safeguards some children has led to a major row with the Welsh government.
A complaint was made in June 2009 about children being locked in the room, which had no natural light or ventilation, at the Pupil Referral Unit (PRU) in Neyland.
Ministers had earlier asked why no inquiry had been conducted by the council three years later.
Windowless rooms
When reports about it emerged, the council said there was nothing similar at other schools in the county, but the board discovered a "very similar padded room" at a primary school elsewhere.
This school also had two other windowless rooms in which children were routinely locked, the letter said.
Last September, ministers sent a panel of experts called the Pembrokeshire Ministerial Board into the council, after issuing the local authority with a final warning.
Mr Andrews said what the board and a range of inspectors have since told him "do little to allay our concerns".
He said: "Nothing [Mr Adams] has said in his letter of reply or in a subsequent email to us convinces us that the board and the inspectorates have got it wrong."
Mr Andrews said that having studied responses from Mr Adams and having "checked and re-checked the facts and taken legal advice," ministers now felt they had to take further action.
He said: "In issuing this direction I am not absolving the local authority of its responsibilities for safeguarding," said Mr Andrews.
"It remains the responsibility of the authority, and not the board, to ensure the safeguarding of children in Pembrokeshire".
Mr Andrews added: "However, the direction makes clear why we as a Welsh government have little confidence in certain senior officers.
'Good progress'
"It is for the leader and the authority to demonstrate that the authority is taking its responsibilities for safeguarding seriously in ways which go beyond process management," he added.
In his response to Monday's announcement, Mr Adams said: "The authority is making good progress in addressing the issues highlighted around children's safeguarding issues.
"We remain committed to doing everything that can reasonably be expected to keep children in Pembrokeshire safe.
"I recognise there is still work to be done but I am determined that with the continued support of the Welsh government we will reach a successful outcome."
Lib Democrat children and young people spokesman Aled Roberts said the minister's actions were "a sensible move".
He said: "With a new director of social services in place, I am certain that appropriate steps will now be taken within the local authority to secure children's welfare in future."