Llandovery College: Creditors 'unlikely to be paid'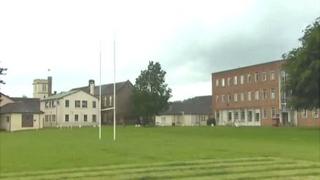 The full extent of the debt that one of Wales' best known private schools is in has been revealed as £4m - double the original figure.
Around 30 people have attended a Llandovery College creditors' meeting.
Liquidators Grant Thornton told BBC Wales that creditors other than the taxman or the bank were "very unlikely to get a penny".
The college, which is being restructured, was originally understood to have debts of £2.2m.
Alistair Wardell, a partner at Grant Thornton, said the "deficiency to creditors was around £4m".
Warden Guy Ayling confirmed that a new company will run the private school from Friday.
He said it "was very unlikely that those trade creditors would get any dividend at all".
A number of local firms are suppliers to the college, which is undergoing a restructuring as it deals with its historic debts.
Staff have been told they can claim state redundancy payments for loss of earnings on June or July.
Llandovery College is both a private company and a registered charity operating under the direction of the trustees.
At a meeting last month, more than 100 parents of pupils at the school backed Mr Ayling's proposals to close the company operating the school and form a new company.
The teaching union NASUWT Cymru has described meetings with college leaders as "productive," with staff being transferred to the new operating company, with the expectation that they would be paid from this month.
The union has said it was hoped that an agreement could be reached with the new company to pay lost income for "most members of staff".
In the latest accounts published by the Charity Commission for the year ending August 2010 the college was running a deficit of £153,112 but had net liabilities of £2.2m.
There were 292 students who started the academic year, but the college hopes for numbers to rise to 320 from September 2012.