Beach volleyball for new Swansea Bay sports centre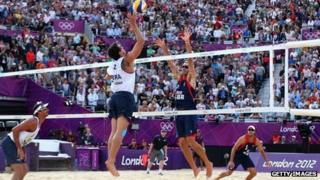 Beach volleyball will be one of six sports that will be available at a new waterfront centre on Swansea Bay.
Funding for equipment has been granted for the 360 Beach and Watersports centre.
Sport Wales is giving £24,997 for the beach front hub and floodlights along with buying kayaks, paddle boards, beach footballs and volleyballs.
Beach volleyball proved a huge hit at the London 2012 Olympics which was held at Horse Guards Parade.
The centre, which will be operated through a not-for-profit partnership between Swansea University and Bay Leisure, is expected to open next month.
Kate Hannington, manager of 360 Beach and Watersports, said: "The funding from Sport Wales will ensure that from the day the centre opens we will be able to achieve our mission of driving inclusivity and accessibility for all through sports, physical activity and social opportunity.
"The core activity and programmes we have chosen to deliver from this autumn really offer real opportunities for people of varying abilities and situations across the community to engage with new sports for the first time or work to improve their skills."
The centre will focus on providing football, rugby, beach volleyball, kayaking, powerkiting and stand-up paddle boarding on the water.
Complement
With the money it will buy 10 sit-on-top kayaks, seven stand-up paddle boards, beach footballs and volleyballs, plus floodlighting for evening and night games.
Jonathan Roberts, Sport Wales senior officer, said: "We work closely with Bay Leisure and Swansea council and we have been aware of the progress and potential of the project for some time.
"The natural environment in Swansea makes it a fantastic location to develop water-based and beach sports.
"There are already well-established clubs for sports like sailing and rowing in the area and we think this venture will complement these.
"We are seeing an increase in people wanting to try different sports or variations of traditional sports and this development will take advantage of that trend."
As well as aiming to get hundreds of adults and junior participants each week the hope is that a host of new leaders and instructors can be signed up.