Llanelli ex-offenders and drug addicts 'dumping ground'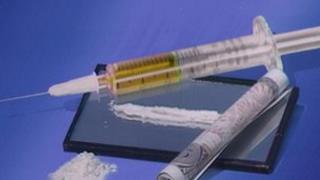 Some councillors in Llanelli claim Carmartheshire council is turning parts of the town into a "dumping ground" for ex-offenders and drug addicts.
Local residents in Tyisha and Glanymor wards live in fear of anti-social behaviour and community spirit is at an all time low, they add.
Dyfed Powys Police say steps are being taken to tackle the drug problems.
The council says it has never intentionally housed drug addicts in either ward.
Councillors spoke of their concerns to the BBC Radio Cymru's Post Cyntaf programme.
"Things have got worse over the years, because of the effects of drugs on things like crime, and anti-social behaviour," said councillor Roger Price.
"It's the main subject of conversation amongst local people - things like needles being found, gangs on the streets."
Mr Price said the feeling was that the south of the town had become a "dumping ground".
Wendy Rees, who works with drug users, said she does not think the problems have got worse over the past 10 years, but they are more visible than before.
"We're more aware of what is happening. There was always a problem there but it's come more to the surface now because there are services there to help people."
Dyfed-Powys Police said the two areas are trouble spots but a lot of good work is going on to to tackle the drugs problems in the town.
The force will be launching a new campaign to try and reduce the use of Class A drugs in Llanelli in September.
Carmarthenshire Council's area housing manager, Rachel Davies, said since 3 August the council has introduced a new social letting policy in the Tyshia Ward giving it more control over who is allowed to move into the area.
The idea is to get a "get a better mix of age groups and household types, as well as reducing incidents of anti-social behaviour, reduced tenancy turnover and the overall perception of the Tyisha ward as a residential area".
"We want to get more people who work, more people over 55, to try and change the dynamics of the area.
"We have not deliberately being putting some people in the Tyisha area, and the new policy will not remove people," Ms Davies added.