Neath Port Talbot Hospital set to stop 999 admissions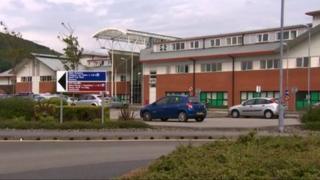 An "urgent" change to the way a south Wales hospital handles its 999 medical emergencies and GP referrals will come into force at midnight.
Neath Port Talbot Hospital will no longer handle such cases from the end of Tuesday, due to a lack of sufficiently experienced doctors.
An estimated 26 patients a day will be taken to hospitals in Swansea and Bridgend instead.
The change to services are due to be completed by 3 September.
The end of the services from Wednesday was brought forward to take account of the bank holiday next week.
Neath Port Talbot Hospital does not have a full scale accident and emergency (A&E) unit, but was able to handle medical emergencies, such as blood clotting or infections, until the changes.
Abertawe Bro Morgannwg University Health Board (ABM) estimates four-in-five of the patients who would have been admitted to Neath Port Talbot will instead go to hospitals in Swansea, with the rest to the Princess of Wales Hospital in Bridgend.
In a statement, the health board said that anyone who was "seriously unwell, but who may be driven to hospital by car or other means" should be taken to Swansea's Morriston Hospital to the Princess of Wales in Bridgend instead of being brought to Neath Port Talbot.
'Constantly checking'
However, the health board said all Neath Port Talbot's other hospital services remained, including its minor injuries unit, planned inpatient surgery and outpatient services.
ABM chief executive Paul Roberts said: "It is important to remember that this urgent change is being made for safety reasons and on the advice of senior doctors.
"A great deal of thought and planning has gone into this process, and staff directly involved in the service have been closely involved.
"As with every major change, however, there is always a risk that there may be some teething troubles, like delays. We ask that patients and the public bear with us. We will continue to do our best to rectify, as soon as possible, any hiccups which may occur.
"We will be constantly checking and - where necessary - amending practices over the next few weeks. We are determined that patients receive a safe and effective service with the minimum of inconvenience."
Local politicians have expressed concerned about the changes but ABM says it has no plans to close the hospital.
Managers visited Dubai last autumn in the hope of recruiting new doctors but only secured one suitable clinician.
Attempts to fill the shortage with locum temporary doctors also failed, because they are already being used to bridge the gap in other areas.