Lifeguard saves four-year-old boy swimming off Tenby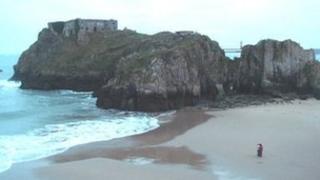 A four-year-old boy has been saved as he was swept out on a wave while swimming in the sea at Tenby in Pembrokeshire.
He was spotted by lifeguard Robin Knibb being swept towards rocks near St Catherine's island on Wednesday.
Rescuers said the boy, who was visiting the area with his family, was uninjured.
The RNLI has re-issued safety advice and said people should try to visit beaches patrolled by lifeguards.
RNLI lifeguards patrol 32 of Wales' busiest beaches between 10:00 BST and 18:00 during the summer season.
"Even though the boy was swimming between the red and yellow flags it's easy for someone, especially a child, to get out of their depth," said RNLI lifeguard supervisor Adam Pitman.
He reiterated advice given by the RNLI to anyone thinking of visiting a beach over the bank holiday.
"Try and visit a lifeguarded beach and always swim between the red and yellow flags.
"People arriving on the beach should approach the lifeguards and ask for tips and advice to help ensure a safe and enjoyable day on the beach," he added.