Luke Somerfield drowning: Accidental death verdict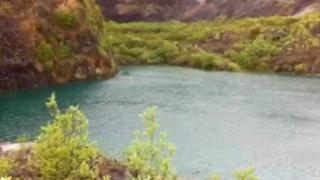 A coroner has recorded a verdict of accidental death in the case of a teenager who drowned in a disused quarry in Carmarthenshire.
Luke Somerfield, 14, from Llandeilo, had been in Cilyrychen Quarry, Llandybie, with three friends in June.
The inquest in Llanelli heard that the quarry, known locally as blue lagoon, was flooded to a great depth.
The teenager became tangled in rope from a lifesaving ring and drowned.
The inquest heard that on Wednesday, 6 June Luke and his friends paddled and swam in the quarry using the orange lifesaver ring.
However, Luke struggled in the water and disappeared.
The alarm was raised and officers from Dyfed-Powys Police - PC Robert Lang and PC Alan Morgan - swam in after him.
They discovered the rope that was attached to the ring had become caught in something under the surface.
'Great courage'
PC Morgan dived 15ft below the surface and found it was tangled around Luke's left arm.
He was brought to the surface and taken to Morriston Hospital, Swansea, by helicopter.
Despite successful attempts to restart the teenager's heart, he died later that evening.
Carmarthenshire coroner Mark Leighton praised the efforts of the two officers and said they had displayed "great courage".