Damselfly arrival in Llanelli could be down to windy weather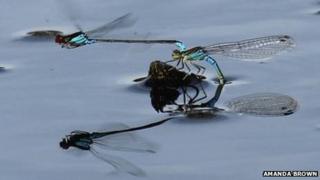 A damselfly has been recorded in Wales for the first time but its appearance could be down to this summer's unseasonal weather, claim experts.
More than 50 small red-eyed damselfly have been spotted at the Wildfowl and Wetlands Trust (WWT) Centre near Llanelli.
The centre said it was possible the insects might have been blown off course in windy summer conditions.
Until now the closest they had been seen to Wales was Bristol.
WWT spokeswoman Pamela Styles said it was a mystery how the damselflies had managed to travel the 90 miles (145km) from Bristol to the wetland centre, especially as the adult insects lived less than two weeks.
Small red-eyed damselflies first arrived in the UK from mainland Europe in 1999, and have since slowly been spreading northwards and westwards.
Indications are that the insect intends to stay in Wales because pairs have been seen mating and laying eggs at the wetland centre.
WWT learning assistant Ms Styles said: "Adult damselflies live for less than two weeks, which makes the distance they seem to have travelled even more impressive.
"How and why it has happened is something of a mystery, and for now we can only speculate whether climate change or this year's unusual weather has had an impact.
"A visit from the county recorder to confirm the sightings resulted in identification of another new species for our reserve, so the distributions of these insects are clearly changing."
In July, the WWT said unpredictable weather had altered bird migration patterns, with many arriving in Wales weeks earlier than expected.
Wettest summer
It said 800 curlews, not normally seen until late August, were early arrivals.
About 100 redshank, 90 oystercatcher and 190 black-tailed godwit had also flown in early.
Wales has endured its third wettest summer since records began in 1910, according to the Met Office.
The unseasonal weather led to the damage of hundreds of homes and businesses following torrential rain in Ceredigion in June, while a number of summer shows were cancelled.