Llandeilo and Cross Hands supermarket plans prompt political row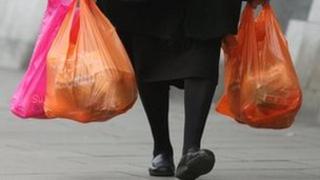 A political row has erupted in Carmarthenshire over plans to build two new supermarkets, creating 600 jobs.
The council's ruling Labour-Independent coalition has accused the local Plaid Cymru AM and MP of trying to scupper plans at Llandeilo and Cross Hands.
Leader Kevin Madge accused them of encouraging the Welsh government to call in, or review, Sainsbury's plans.
But AM Rhodri Glyn Thomas says he and the MP, Jonathan Edwards, passed along residents' concerns to ministers.
Mr Thomas said: "This type of response is characteristic of Carmarthenshire County Council... the council doesn't want any scrutiny of its decisions.
"To blame us is just silly... we wrote to the Welsh government because concerns were expressed by local people [about these developments]."
A statement from the council said the projects were worth £60m on investment, creating several hundred construction jobs.
It said that at Cross Hands, the investment includes redeveloping a derelict site for housing, a doctor's surgery, health centre and care home along with improvements to Maes yr Yrfa School.
'Quickly as possible'
"At best this will now be delayed, at worst, it may not happen, which will be a great disappointment to many parents," said the statement.
Mr Madge said: "These are major developments which would have helped so many people and impacted so positively on many communities.
"The investment at Cross Hands, in particular, would have supported our aim to improve Welsh medium education which is also now at risk."
The Welsh government has been asked to comment.
The council said Sainsbury's director Neil Sachdev had written to the minister urging him to process the "call in" as quickly as possible.
Meanwhile, Mr Thomas added that he is considering making a complaint about the content of the press release by the council.