Swansea waterfront £20m plan could create over 200 jobs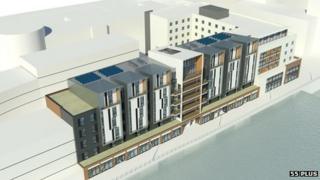 Plans are being submitted for a £20m project in Swansea's waterfront which developers claim could create over 200 permanent jobs.
The Waterside Centre would offer up to eight shop and restaurant units, with a 94-bed care centre for older people and around 25 homes built above them.
The developers, Waterstone Estates, say the plan would complete the northern side of the Prince of Wales dock.
Work could start by spring next year and is likely to take up to two years.
Gareth Chappell, speaking for Waterstone and care provider 55 Plus, said extensive pre-application meetings had been held with the council to ensure the proposal complied with the local area plan.
"The retail space is six units but they can be flexible depending on what shops came to them, so there could be eight," he told BBC News.
"It's rare to get these sort of units that look directly onto the waterfront. Water is a definite attraction for people.
"There will be 140 jobs in the care home and 83 in retail, plus 120 temporary jobs for the construction phase."
Visitor numbers
If the bid is successful, Mr Chappell said developers aimed to start work by spring next year and were hoping for a maximum construction time of two years.
The care centre would also offer services to older people in the community who were able to stay in their own homes with support.
Waterstone Estates was responsible for the previous phase of development at the Prince of Wales Dock, which saw a 132-bed hotel, a restaurant and a supermarket open in November 2010.
Russell Greenslade, from Swansea Bid which represents city centre businesses, said he would welcome anything which increased visitor numbers.
Earlier this month concerns were raised about development at the dock after it emerged that money which had been ringfenced by the Welsh government to create a 400-berth marina had been distributed elsewhere after development stalled in 2008.
However, the Welsh government said since 2008 only £2.9m had been raised in income from sales of land at SA1, and in the same period £9.3m had been spent on the area.