Swansea watersports centre aiming to help boost tourism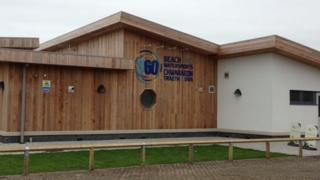 A multi-million pound project to boost tourism by making the most of Swansea's links with the sea has been completed.
A beach and watersports centre opposite St Helen's rugby ground, a new pontoon at Swansea marina and a purpose-built facility at Knab Rock in Mumbles make up the project.
The Welsh government has funded the scheme along with Visit Wales and the Regeneration Area programme.
It was launched by Business and Tourism minister Edwina Hart.
'World-class'
"Tourism is vital to the Welsh economy and Swansea Bay already attracts many thousands of visitors all year round," said Ms Hart at the launch event on Monday.
"The new watersports centre of excellence, with its world-class facilities, should undoubtedly increase those visitor numbers to the area and make the waterfront city of Swansea an even more attractive place to come for those looking for the opportunity to enjoy watersports activities in a beautiful location.
"It's also great news for local residents and families in Swansea who want to try out a new sporting activity on the water or to simply get more active."
The watersports centre will be operated through a not-for-profit partnership between Swansea University and Bay Leisure.
It will focus on providing football, rugby, beach volleyball, kayaking, powerkiting and stand-up paddle boarding on the water.
At Swansea marina, Swansea council's historic 1911 Bristol Channel pilot cutter boat, Olga, has been refitted and the vessel will be providing a sailing experience for schoolchildren and community groups.
And in Mumbles, public toilets, showers, changing rooms, an office and a tourism information distribution point make up the new facility at Knab Rock.
Nick Bradley, Swansea council's cabinet member for regeneration, said: "Our closeness to the sea in Swansea is one of the area's key assets and it's important we do all we can to make the most of it.
"This project will add vibrancy to the waterfront and will help further put Swansea on the map as a city of sport.
"A combination of classical sailing, beach-based activities and adrenaline-pumping watersports means there'll be something to cater for people of all ages.
"The upgrade of our facilities at Knab Rock will also improve the visitor experience in one of our of our most popular seaside resorts."