Swansea slip bridge: Flower bed plan to revive remains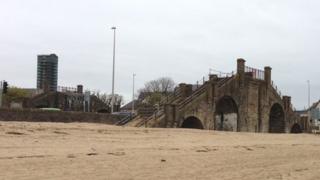 The remains of a slip bridge which used to span the main road on Swansea's foreshore could be covered in flowers and small trees.
It is one short-term idea by council leader David Phillips to make the abutments more appealing.
Futuristic plans have been drawn up by private architects for a new bridge which would overhang the beach by 30m and have a viewpoint over Swansea Bay.
But this has been deemed too expensive in the current climate.
"We can't leave them the way they are," he said. "We've got to do something with them.
"An illuminated glass bridge is fantastic and it's generated an enormous amount of interest, but the chances of it happening are low because of the amount of money that's required.
"In the short term I've asked my officers to come back with plans to use the abutments.
"I've asked them to price up turning them into an enormous flower bed on the seaside.
"I want to be able to retain the option that if the [financial] circumstances improve, we might be able to do something with them."
The bridge, which spanned the main road on Swansea's foreshore, was removed in 2004.
It had stood for nearly 100 years and allowed people to cross over the Mumbles Railway line and Oystermouth Road.
It was taken down for structural repairs eight years ago but Swansea council decided it was too costly to put it back.
It now sits on the promenade but the bridge's structures remain.
Swansea-based architects Hyde & Hyde came up with the futuristic design to bring them back to life in the summer.
They say they hope the "Beacon in the Bay" project would be the city's answer to the Angel of the North in Newcastle.
A feasibility study is already being carried out into the project which would run into millions of pounds.
"The idea was something that we had put to us by artist Marc Rees celebrating the Cultural Olympiad asking us if we wanted to exhibit something in recycled fuselage of a DC-9," said architect Kristian Hyde.
"My wife and I spoke long and hard and thought we should do it.
"We thought we should do something as what we could give to Swansea as a gift - an idea of what we could do in the future.
"We looked at things of the landscape that are neglected or forgotten and the slip was such an important node of the city's history.
"We looked at what was possible about adding something to bring them back to life and bring them back to existence.
"It's important we think very carefully about our building environment and heritage.
"I would like to see if there's any investors interested in taking it forward. There's a substantial feasibility study already done."
Mr Hyde said the cantilevered design would overhang the beach by 30m and provide a viewing point over Swansea Bay.
He added: "We would go to the local community and research what they want inside it.
"It could be a space that adapts and changes. We saw it as an observatory deck, a cafe etc."