Morriston Hospital team's blood clot warfarin findings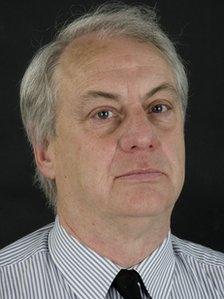 A research team at a casualty unit says some patients may still be at risk of blood clots, despite receiving the anticoagulant drug warfarin.
The team at Swansea's Morriston Hospital hopes its findings, to be published soon, will lead to a wider study to identify patients who are unlikely to respond to treatment.
The unit was formed to identify patients at risk of fatal blood clots.
Professor Adrian Evans, leading the study, said findings were "promising".
The research is being conducted by the hospital's NISCHR Haemostasis Biomedical Research Unit.
It has 340 patients involved in studies researching sepsis, strokes, heart disease, cancer and thromboprophylaxis - the practice of giving small doses of anticoagulant drugs to people at risk of deep vein thrombosis.
On the warfarin findings, Prof Evans, professor of emergency medicine and haemostasis, said: "This may help us identify which patients are likely to have recurrence despite being on anti coagulant therapy.
"We hope that if this is the case - and this will require a much bigger study supported by this evidence - then we will be able to look at different treatment options to protect these patients."
The unit said a recent report showed 70% of deaths from clots acquired in hospitals could have been avoided.
In 2010, 900 people in Wales died from deep vein blood clots they developed in hospital, it said.
Prof Evans added: "We have a long way to go but we are making inroads into our understanding of why certain illnesses form early and abnormal blood clots which can break off and lodge in other organs causing complications and even death.
"We are particularly focusing on those diseases where clot developments are known to occur, such as acute cardio respiratory disease, stroke, trauma and cancer.
"It is early days yet but the research so far looks promising and more work needs to be done."
Related Internet Links
The BBC is not responsible for the content of external sites.