Clydach factory power from waste permit 'likely'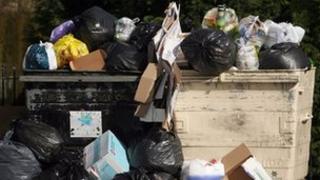 A nickel refinery that wants to generate power from waste is being told it is likely to be granted a permit change.
Vale Europe Ltd wants to expand to operate a pyrolysis plant at its site in Clydach, Swansea.
Environment Agency Wales said in-depth analysis shows measures to run it without harming local people or the environment are in place.
A second consultation will now begin before a final decision by the agency.
Last month a report to councillors said thousands of tonnes of "refuse derived fuel" would be delivered to the site every day by up to 10 heavy goods vehicles.
The report by environmental consultants recommended approval for the scheme, subject to conditions.
'Highest standards'
The proposals include creating power using pyrolysis, which "allows for the thermal degradation of organic substance in the absence of oxygen".
The process would create a gas which could generate electricity to power the plant and be sold back to National Grid.
The plans also include extending and altering existing buildings, as well as the construction of a 41m (135ft) high chimney.
Local people, businesses and a number of professional bodies were consulted by Environment Agency Wales.
Steve Brown from the agency said: "Following a rigorous assessment we have drafted a revised permit for the site which will require the company to continue to conform to the highest environmental standards.
"This further consultation stage gives everybody the chance to view the permit, discuss how we have reached our decision, and bring any new issues to light.
"We will not allow a change to the permit until we are satisfied that we have addressed all concerns and that the company can operate safely without impacting on the local environment or local people."
A copy of the draft permit can be viewed online. Any comments should be made in writing to Environment Agency Wales by 4 December.