Oxwich Leisure Park, Gower, leases could soar over £1m, judge rules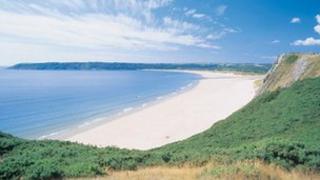 A High Court judge has told holiday chalet owners they made a "bad bargain" which could result in annual payments of more than £1m each to the landlord.
The lease charge at Oxwich Leisure Park, Gower, was just £90 a year in 1974 when the 25 tenants signed their agreements.
But they contained an allowance for annual inflation of 10% at a time when the rate was 16%.
Payments will soar to £1,025,004 by the time they expire in 2073.
The chalet owners argued the leases were not common sense and would mean excessive profits for the landlord, Paddy Arnold.
Mr Justice Morgan accepted arguments put forward by Ms Arnold that, under the terms of the leases, the £90 figure goes up by 10% a year, on a compound basis, resulting in the £1m-plus figure at the end of the 99-year leases.
'Limited' services
The secluded park, which has 91 chalets, has sea views and is in a popular holiday spot within walking distance of Oxwich Bay.
The chalet owners said charges of more than £3,000 each in the current year were already expensive and asked that Ms Arnold's interpretation of their leases would result in her making excessive profits for "fairly limited" services.
However, the judge said Ms Arnold's interpretation was in line with the "more natural meaning" of the words used and served a legitimate commercial purpose in allowing her to recover an initial fixed sum, adjusted for inflation in later years.
The judge told the tenants: "The figure calculated for the 99th year of the term appears so high because that year is still a long way away and one is inclined to assume that inflation will not apply at 10% per annum for all of that time.
"That shows that the lessees made a bad bargain when they allowed for a 10% per annum inflation adjustment, but that is what they did.
"If the parties do adopt a fixed percentage increase to provide for future inflation, their choice may turn out to over-provide or under-provide for inflation.
"But if that is what they have done, then they are bound by the consequences."