Dioxin breaches halt Crymlyn Burrows waste plant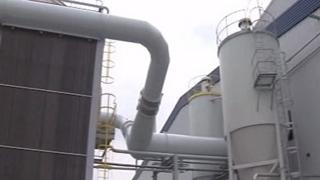 A £32m waste incinerator has agreed to stop operations after two breaches of its dioxins emissions limit.
Environment Agency Wales said it has launched an investigation into the breaches at the Crymlyn Burrows site in Neath Port Talbot.
Cleaning of a section of the plant, owned by the local council, is being carried out.
In August last year the plant accepted a formal caution from the agency after emission breaches in 2010.
The agency said a stricter monitoring regime was in place following those incidents and the plant was cooperating fully with the new investigation.
Dioxins are toxins formed by industrial processes and waste burning. They have been shown to contribute to higher cancer rates and to affect pregnant women.
Steve Brown, area manager for Environment Agency Wales said: "Environmental permits are there to make sure that local people and the environment are protected from the impact of sites like these.
"They have strict conditions and emission controls which we will enforce. The operator is complying fully with our investigation.
"We will make sure they do all that they can to rectify this problem as a matter of urgency and we will consider taking further action if it is appropriate."
Huw Brunt from the Public Health Wales said: "Raised levels of dioxin emissions over a short time period are unlikely to pose an appreciable health risk to the local population.
"However, a number of breaches of the dioxin emission limit have been reported at this site over the past couple of years.
"This recurring problem raises associated public health concerns and we would like to see this situation resolved as soon as possible."
The plant, which opened in 2002, processes household waste for recycling and incineration from Neath Port Talbot and Bridgend.
It is operated by Neath Port Talbot (Recycling) Ltd - a wholly-owned subsidiary of Neath Port Talbot council.